chopsticks as giveaway
Pens? Lighters? Notepads? Those may not always be the perfect giveaway. If you're looking for an exceptional promo idea with an Asian touch, we've got a unique alternative for you. We imprint or laser engrave chopsticks with logos, text or individual names. Their shape, weight, size and durability make chopsticks ideal for mailings and trade show giveaways.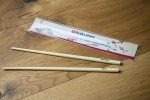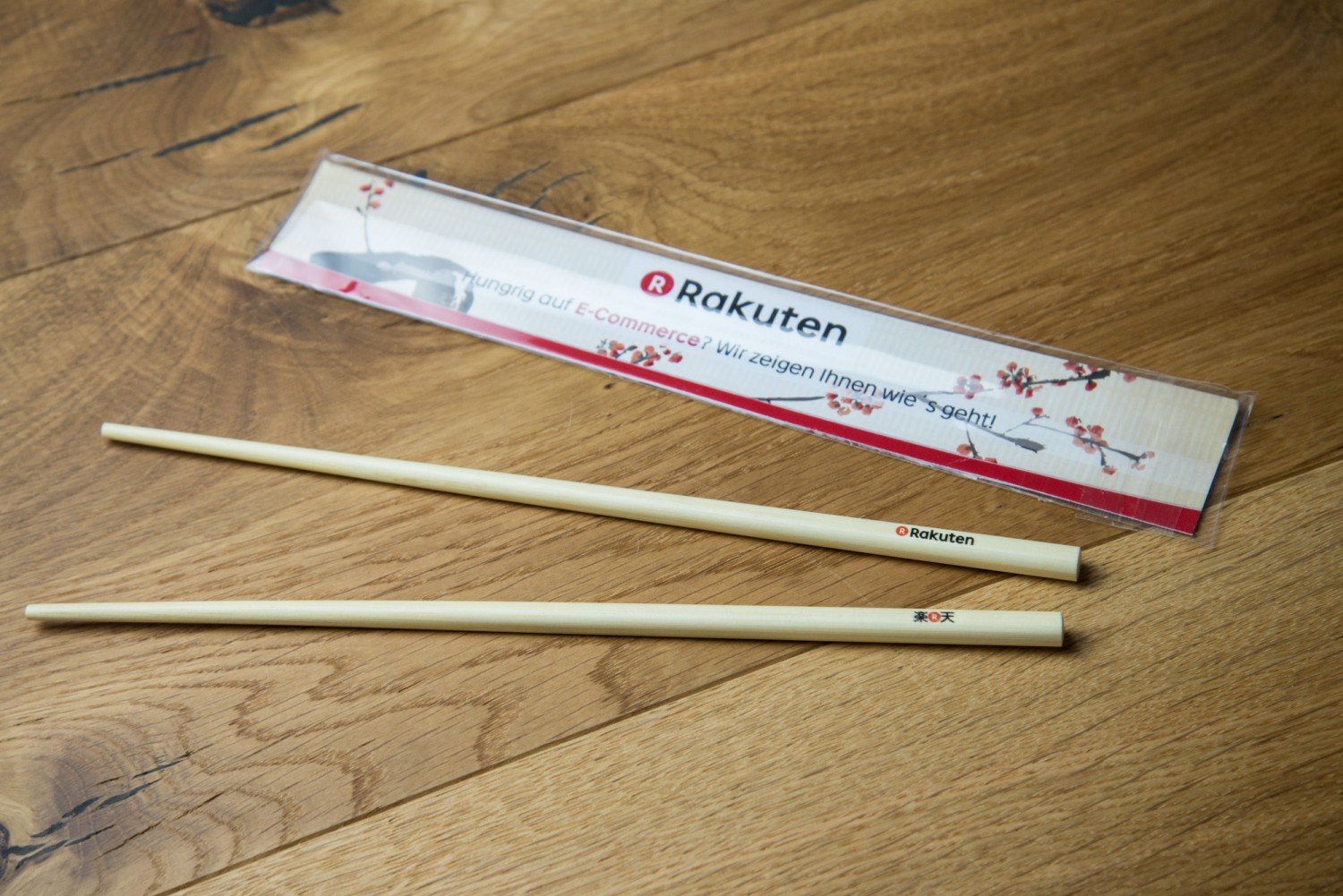 Rakuten is THE online-marketplace in Japan, its position is comparable to Amazons in most parts of the western world. For the support of Rakutens marketing activities in Austria we delivered 2color printed chopsticks in a branded giveaway packaging.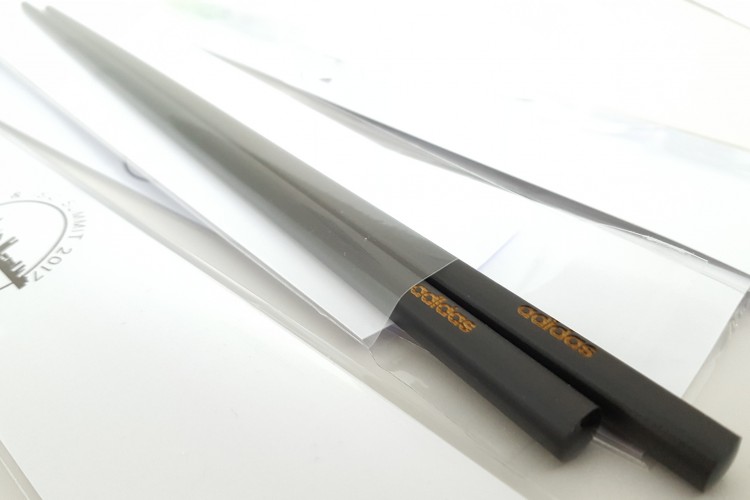 matt black painted chopsticks made of bamboo wood with logo laser engraving, produced for adidas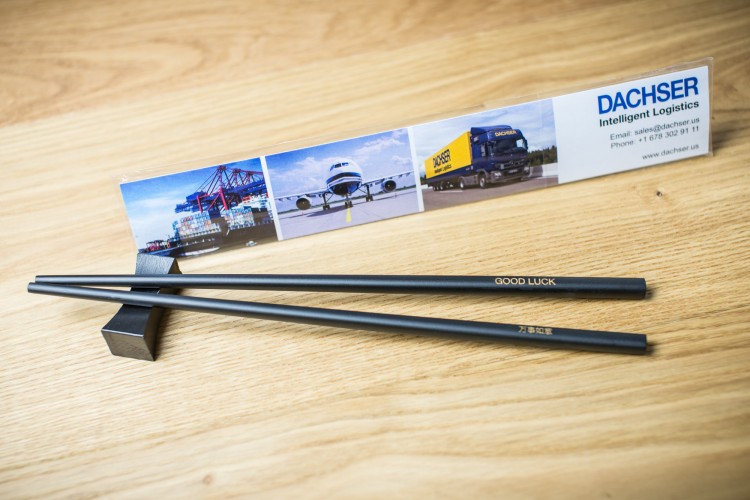 For an opening event of DACHSER USA we have designed and produced laser engraved chopsticks in a giveaway packaging. About the friendly feedback after the delivery we have been very happy: "We are very pleased with the production which is absolutely up with our expectations in quality ..."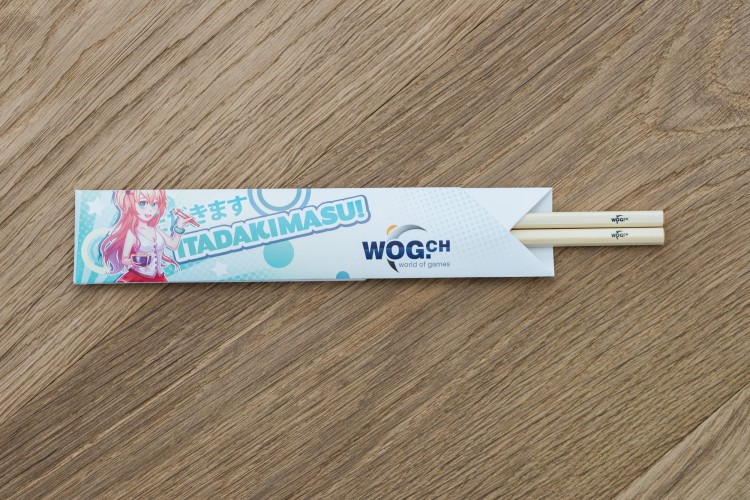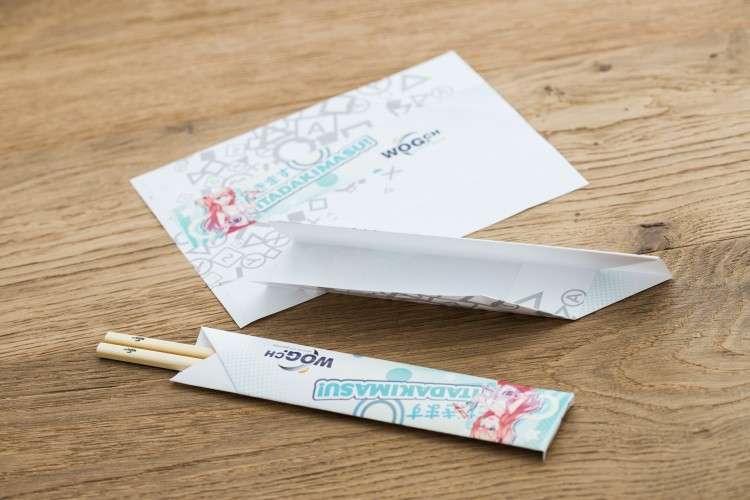 reusable bamboo chopsticks printed 1c and packaged in a fully customizable, hand-folded origami sleeve. The sleeve is produced with 100 gsm artpaper.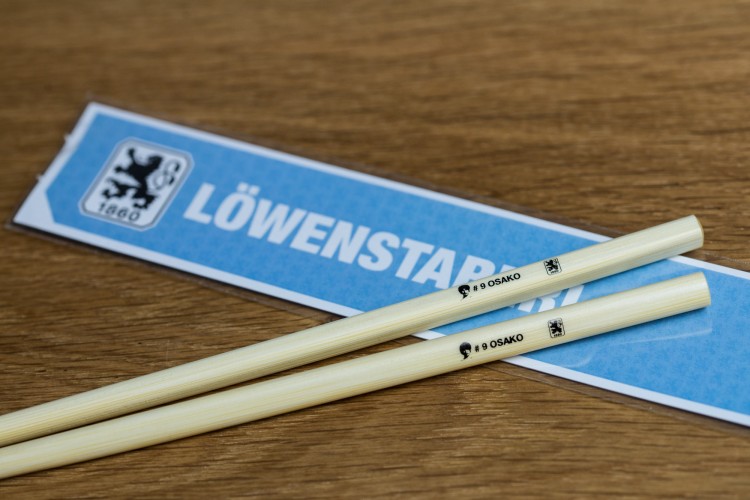 When German soccer club TSV1860 Munich signed contract with Japanese team-striker Yuya Osako we produced chopsticks as merchandising article for the club.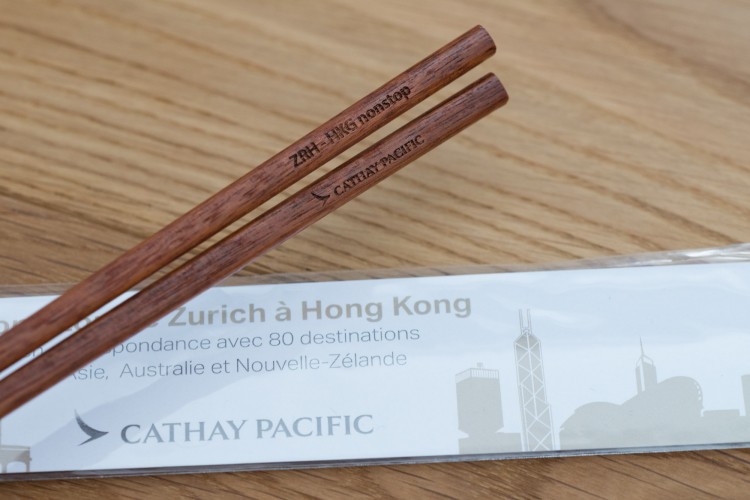 Hong Kong's national airline Cathay Pacific asked us to produce chopsticks to advertise for their direct flight from HK to Zurich. The classy chopsticks made of "ironwood" (Japanese hop-hornbeam) were laser engraved and packed per pairs as handy giveaways. We wish you have a good flight and a pleasant stay.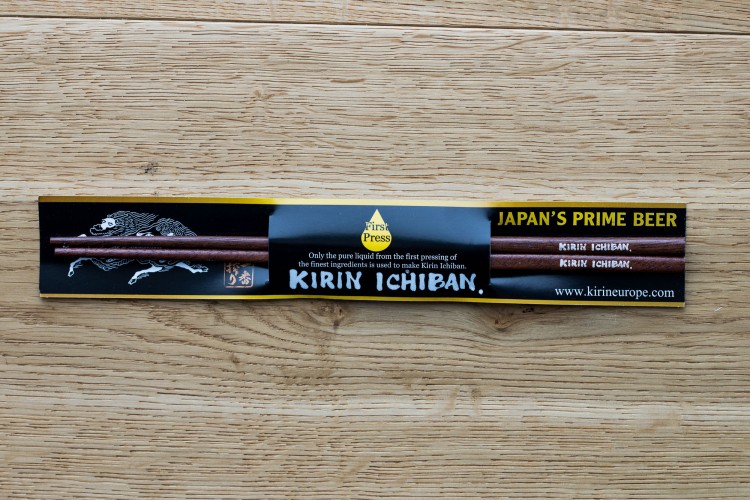 KIRIN is Japan's beer #1. We are proud and greatful that we were assigned at several occassions to produce chopsticks for KIRIN. The sticks were packaged per pairs in Polybags with a printed cardboard.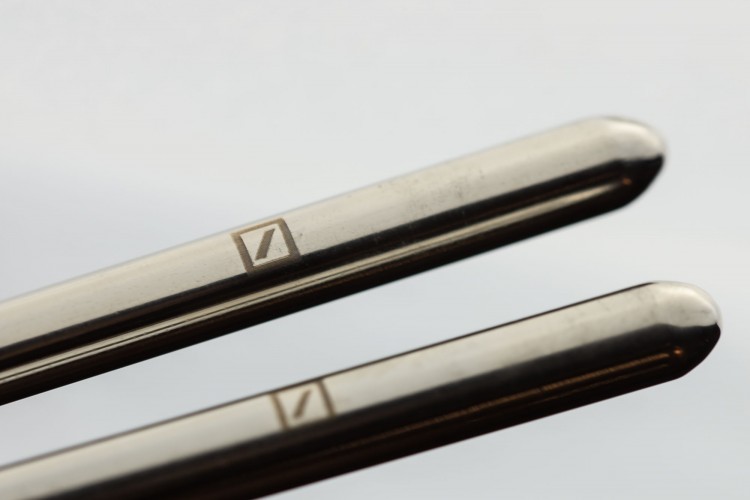 For Deutsche Bank we engraved the world famous, and very reduced logo on polished stainless steel chopsticks.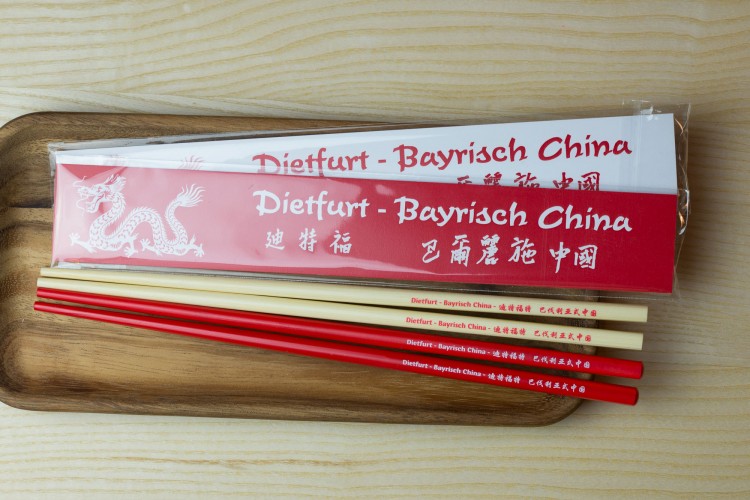 Since the Middle Ages Dietfurt in Bavaraia is nicknamed "Bavarian China". Today Dietfurt is having a vital cultural exchange with China including the annual carneval with China as the main theme. For Dietfurts great city marketing we produced chopsticks in 2 versions with print and packaged as a handy giveaway. 谢谢! Thanks for the nice order.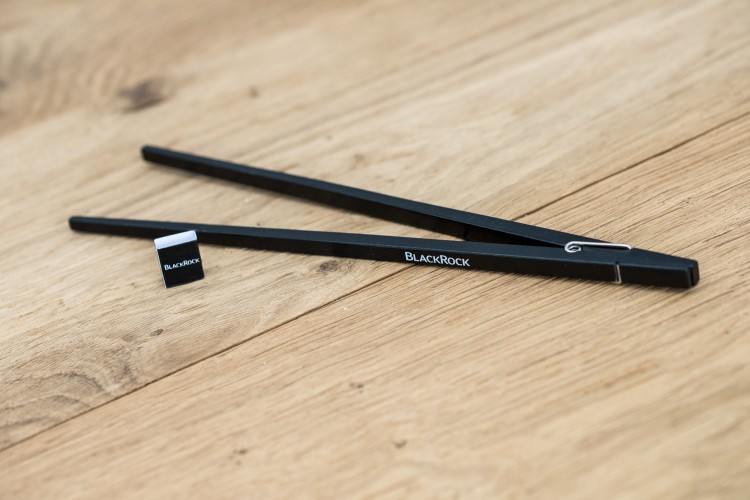 black beginner chopsticks "Nooby", printed and customized with a printed paper wrapper for our customer BLACKROCK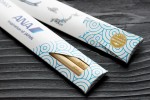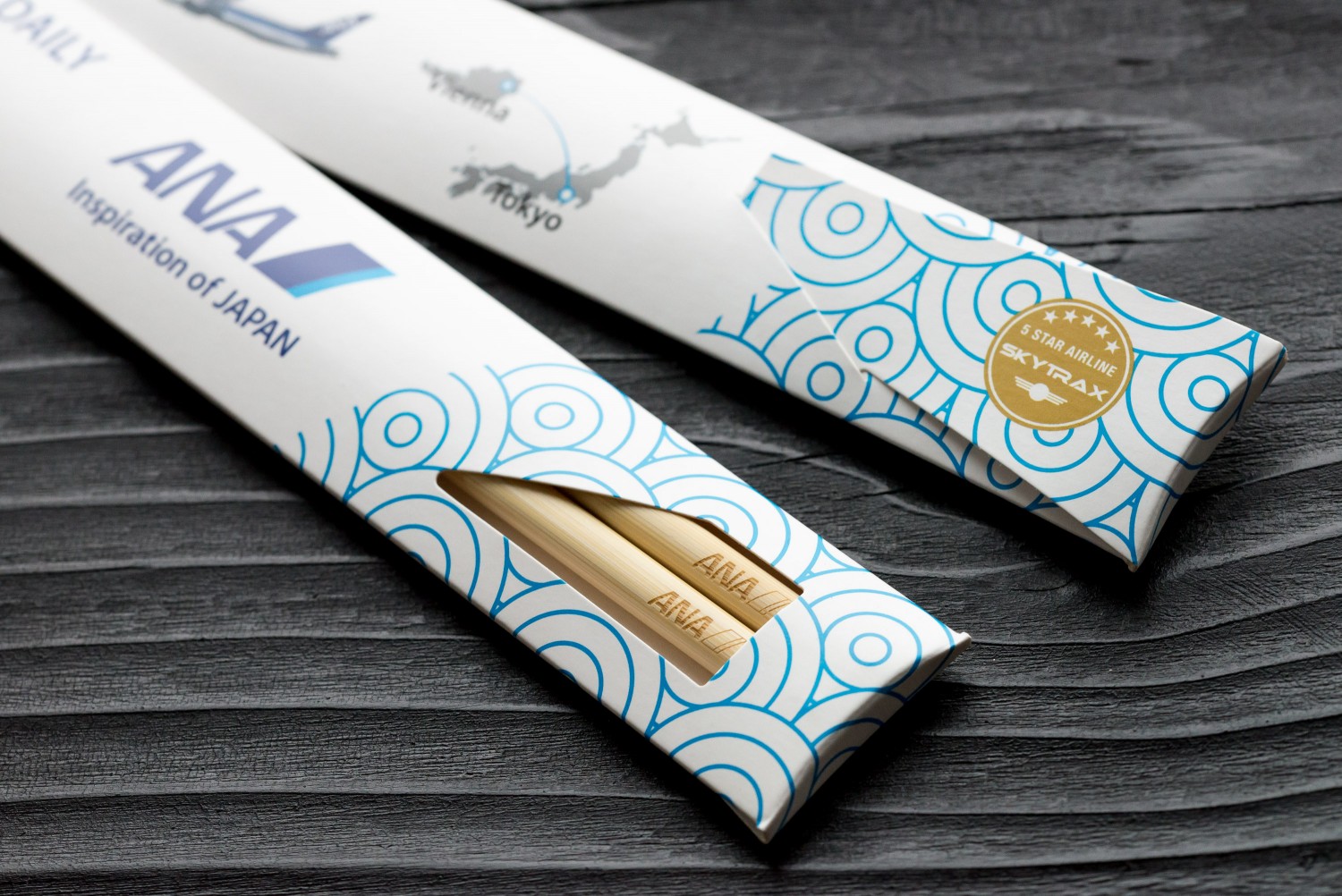 It was already the second time that we got the opportunity to produce chopsticks for All Nippon Airways, this time in a plastic free giveaway packaging which allows to take look at the chopsticks and the logo inside of it.